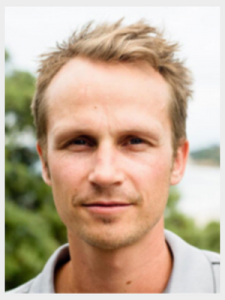 Nick is a very organised, enthusiastic and self-motivated person. He enjoys the challenge of doing social good through business, and is motivated by finding innovative ways to tackle social issues. 
Outside of Momentum Nick is a father of one, keen traveller, avid long distance trail runner, mediocre golfer, craft beer enthusiast, and someone who is always looking to expand his horizons and further his own education and experiences.
Adele brings an eclectic background to the Momentum team. Her professional background in public relations – across corporate, government and not-for-profit sectors – melds with her passion and skill in teaching yoga and meditation to people in prison. She believes yoga and social justice mahi are synonymous, which has guided her from the very beginning of her yoga career. Her view when working with others isn't to help or fix, but to acknowledge that her liberation is bound up in their liberation, and it's a reciprocal meeting of desire for freedom.
In life outside this mahi, she is a mama of two little people and two dogs (oh and goats, sheep and chickens). She's an avid dancer, snowboarder and has at least five books on the go at any one time.
Carlie joined the Momentum team in January 2021. Before joining us, Carlie owned and operated a residential drug and alcohol rehab facility in Kumeu. After running the facility for three years she decided to step back from the drug and alcohol sector but still wanted to work for an organisation that was making a tangible difference in people's lives – and here she is!
Outside of work Carlie loves to travel. In the summer you can find her at Northland's beaches and in the winter on the slopes. She has an 8 year old son and two English bulldogs, all of whom she is obsessed with.
Andrew joined the Momentum Charitable Trust as a trustee in 2019. He is a partner at Armstrong Murray Lawyers in Takapuna. In addition to the legal expertise and governance support that Andrew brings to Momentum he also has a keen desire to be part of an organisation bringing positive social change to individuals in the community that had a less fortunate start to life than himself.
After hours Andrew is a member of the Muriwai Golf Club, he's an avid cricket fan and a self-confessed boutique beer connoisseur.
Sam became a trustee of Momentum in 2021. He owns and runs NZ Bail Accommodation and Support Services (NZ BASS), an organisation that helps people on bail with housing and support for better sentencing outcomes. Sam has lived experience of the New Zealand criminal justice system and is an advocate for justice reform. He is passionate about helping those who may be underprivileged, fighting prejudice, racial bias and classism. 
In his down time Sam enjoys a nice glass of red wine and playing chess. Sam's mother was a piano teacher, so he also loves to play piano himself.